 The Veronica Robles Cultural Center (VROCC) and the Colombia Cultural Heritage Committee invites everyone to the "2nd Annual Viva Colombia Boston" festival, an event to highlight the rich, and colorful culture of Colombia in Boston.
Last year over 1,500 people had the opportunity to experience an authentic celebration with delicious food, folkloric dances, traditional music, and troubadours; over 27 entrepreneurs, and partners will participate including Health Care Connector, and Massachusetts Alliance of Portuguese Speakers. Special thanks to our Sponsor Castillo Liquors. Special shoutout to Boston Police Department A-7 and all City Departments for their kind support.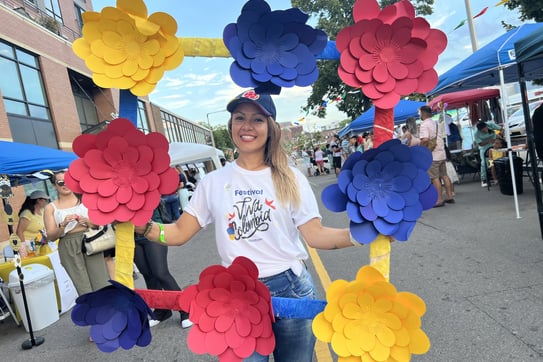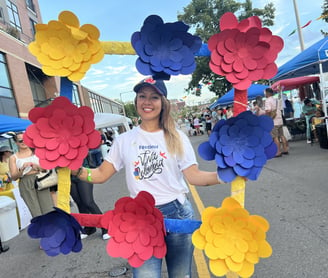 Desfile de Silleteros (Children, Youth carry ornaments made of flowers on their backs along the Parade). This tradition started back in 1957, when 40 silleteros turned up to parade. Currently around 500 people participate in the Desfile de Silleteros as part of the Annual Flower Festival in Antioquia, Colombia.
The parade will include Yipaos, (A Jeep decorated with all kinds of Colombian stuff and used by Colombian coffee farmers to pay tribute to their "Iron mule as part of the Yipao Parade a folkloric celebration in the Colombian department of Quindío, during the anniversary of the city.

Placing of the Silletas on the stage and Festival Inaugural Ribbon Cutting by Colombian Children and youth members of VROCC, entrepreneurs and leaders with special participation of Councillors Julian Mejia, Gabriela Coletta, and Juan Jose Cruz Cuevas, second Consul of Colombia in Boston lead by Veronica Robles, VROCC Co-Founder and Executive Director.
VROCC groups:
Estrellitas Juveniles (Youth dancers)

Origuitas (Little dancers)

Ensamble Musical Latino (Music Ensemble)
Special guests:
Colombian - American Society of RI.., Trovadores Caballo Loco,, DJ Kike Rumbero, Diana Ayala, Colombia Tenor David Bozon.
Colombian Latin Band Son de mi tierra
Trovadores Caballo Loco (Colombian Troubadours)